Commercial Awnings
Shade that looks like a million bucks.
Commercial Awning Services
Commercial Awnings add a whole new look, creating a stunning new identity for your business. Choose from an array of shapes, sizes and colours – choices to create the image you desire. Today's awnings provide fashion with function. They protect your customers from nature's elements including sunlight, wind, rain and snow. Awnings can enhance the appearance of any store, providing shelter and attractive signage. As signage, they act as an efficient marketing tool for businesses and extend a welcome to your customers.
Awnings can complement more modern-styled buildings via a variety of innovative designs. They can add drama and impact to an otherwise ordinary façade.
Illuminated awnings can create identity, image and a sense of festivity in a variety of settings. They combine functional excellence with decorative appeal. Illuminated awnings blend the softness and flexibility of an awning with the high visibility of a sign.
They provide round the clock identification to shopping centres, theatres, restaurants – anywhere you want to capture public attention. Illuminated awnings can complement or dramatize the architecture of any building and they can be graphically embellished with any message or logo. The possibilities are endless.
Give your business personality and make a brilliant first impression. Hundreds of fabric colours and patterns are available custom made to your specifications.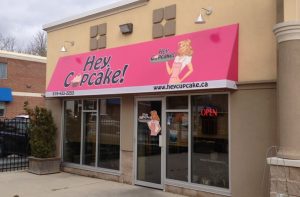 Digital Concept Rendering
See what your awning will look like, before it's even built. With Raymond Brothers free concept design rendering, you can get a realistic look at exactly what your buying, so you can be sure your image comes to life just how you've imagined it. Just another way Raymond Brothers makes picking out your new awning as simple and stress free as possible.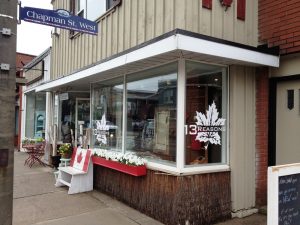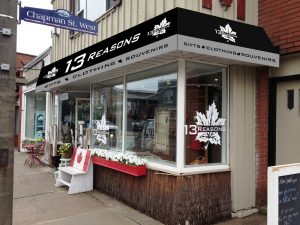 Commercial Awning Products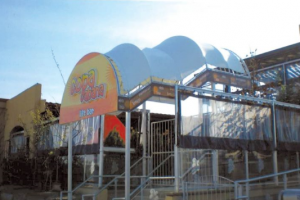 Professionally Designed Entrance Canopies
At Raymond Brothers we specialize in designing stationary canopies to meet your outdoor living requirements. Size will be determined on the given area we have to work with, while style will be for the most part dictated by the patio or deck layout. Canopies will be designed and manufactured to have material removed for winter or to remain up year round keeping snow load in mind through the process.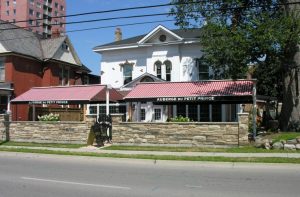 Commercial Retractable Awning
Want Shade? Push the Button!
In a matter of 15 – 20 seconds a Raymond Brothers Retractable Awning can flood your patio with much required shade, cooling your outdoor space by as much as 15 degrees. Retractable awnings must only be installed in areas with low winds as they are susceptible to damage where high winds are prevalent. The most typical mountings are directly to the wall, under the soffit or on the roof.  Come check our showroom at 2050 Oxford Street E., London, Ontario, where we have lots of retractable awnings on display!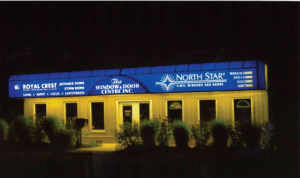 Catch your customer's attention…even at night!
Draw eyes to your buisness at all hours! Using premium eraticated vinyl, LED lighting and your own custom graphics, let us create a back-lit awning for your business!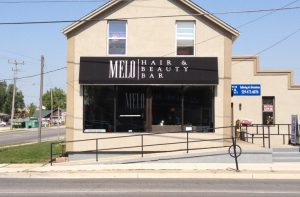 Shade or signage? Why not both!
Let Raymond Brothers add a custom commercial awning to your business. Any shape, any size, any graphics and artwork. We can make your storefront stand out!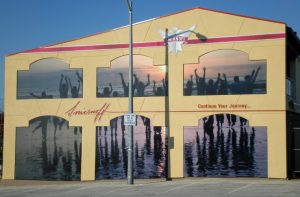 Signs, banners, graphics…we do that too!
Signs and banners from Raymond Brothers are 100% made in house and 100% custom, just like our awnings! Let us boost your visibility with a sign or banner today!
Commercial Awning Gallery
We work closely with our clients to provide the best awning visibility and canopy functionality to best compliment their business. 
Commercial Awning Brochures
Our printable brochure contains all of our commercial awning and signage information. Click to download.
Frequently Asked Questions
Please peruse our FAQ section for answers to the most commonly asked questions. If you have further questions simply message us and we'll be happy to answer them.
Can I get a free, no obligation quote?
Yes, Quotes can be given by phone, email or on site visit. All at no cost to you!
How many styles are available?
Awnings are custom, therefore the styles are endless. See our gallery for some ideas or email us a picture for a free awning rendering, then the decision will be much easier to make.
Will I need a city permit?
In the city of London, if you add graphics, words or numbers a sign permit will be required. Locations outside the city of London are handled on a case per case bases, please consult a sales rep or your local municipality bylaws.
Can I add my logo to the awning?
Yes, depending on the material selected, your logo can be painted on, sew on, applied with self adhesive vinyl film or if back lighting then the process is called "eradicating".
Will my awning be lit at night?
If store visibility is require after 5 PM then we would recommend the awning be lit at night. The most efficient way of accomplishing this is to light the material from with in the awning frame.